Top 4 UV Light Sterilizers In 2020
by:LiangYueLiang
2020-03-09
There are plenty of options available today. If you are confused regarding which one to go for, here are some of the best UV light sterilizers widely recognized by hundreds of thousands of customers worldwide: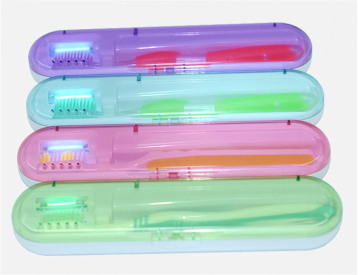 Lyluv UV toothbrush sanitizer is one of the best UV sterilizers of toothbrushes on the market today. It is a must-have addition for your daily usage. It can fit and disinfect standard toothbrushes efficiently and safely. This portable UV sterilizer comes with a compact design so it is easy to carry. It is perfect for travel, business trip, etc.
Besides, this toothbrush UV sterilizer can also be used by hotels to give customers a thoroughly cleaned toothbrush thereby increasing their satisfaction.
One customer comments – "This toothbrush sterilizer is lightweight, great to use traveling for several days. It makes sure I can always have a hygiene and absolutely clean toothbrush to use. Anyhow, I have to have a box to pack my toothbrush, this one is perfect for me."
Why choose this:
l Superb convenient: sterilize toothbrushes on-the-go; if you want to stop the sanitization, you either press the "OFF" button or simply propel the door open.
l Perfect size: with a compact design, it is easy to carry and no-mess; keep your toothbrushes in the sterilizer and it is ready for next use.
l Fast: quickly sterilize toothbrushes in a few minutes; to know whether the sterilizer is working or not, just look for a blue light glowing on the front.
l Goodbye germs: the toothbrush is always very humid and easy to grow bacterial; the sterilizer can efficiently kill 99% germs; it is a necessity in life.
2.
Lyluv 30W portable UV sterilization
l
amp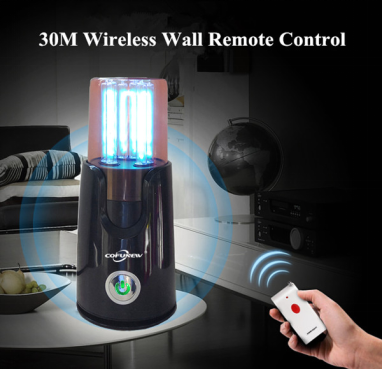 Lyluv has been specializing in designing, manufacturing, and innovating UV sterilization lamps for 17 years. This 30W portable UV sterilization lamp is well received on the market by a combination of exquisite appearance and high-end material. It is easy to use and provides effective sterilization to the air around.
This UV light sterilizer is also exceptionally safe with the dark cap and sterilizer body inside. But note: please use and place this UV lamp according to the instructions.
Why choose this:
l Remote control: the UV light is harmful; this sterilizer comes with wireless remote control, preventing close exposure to UV light; and it automatically switches off after finishing sterilization in 30 minutes.
l Greater safety: it has 10-second delay time when turned on so that you can leave the room in time to avoid exposing to harmful UV light, and it comes with a cap to prevent the UV lamp inside;
l Portable Design: it is easy to carry the sterilizer along with you wherever you go;
l Versatile: it is efficient in killing bacteria and germs, purifying the air and removing the unpleasant smell, perfect for cabinets, cars, bathrooms, kitchen, etc.
3.
Lyluv 38W Mobile UV Sterilization Lamp Kill Bacteria in Room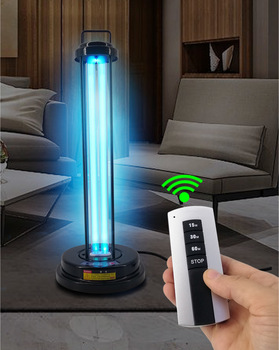 Lyluv 38W mobile UV sterilization lamp comes with smart design and top-quality material yet priced friendly. Everyone will benefit a lot, economically and physically, if purchasing it for their daily life. This is UV lamp comes with wireless remote control, easy and safe to operate.
It can effectively kill bacteria and germ in the air, perfect for many occasions, such as cars, kitchens, bathrooms, cabinets, pets' houses, and so on. And it has been laboratory tested to be effective and safe.
Why Choose this:
l Strong &Durable: With a frame made of nano coated steel; ant-oxidation; hospital grade;
l Intelligent on and off: the UV germicidal light will work 30 seconds after power on, providing humans and pets with enough time to leaving the room, preventing humans and pets from affecting by the UV radiation, safer to use;
l Rechargeable: no batteries needed, it works after recharge or with power charging;
4.
Lyluv 220V 50HZ 38W Portable UVC Sterilization Lamp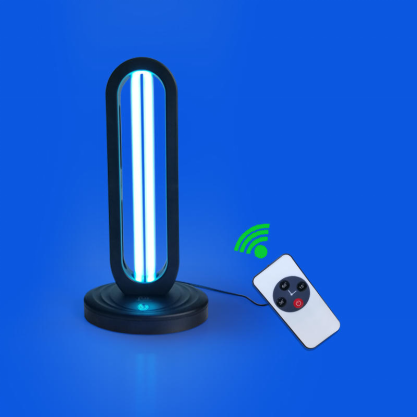 Lyluv UV-C lamps for sterilization comes with various specifications and designs but maintaining great quality. It can sterilize a large space area. It effectively kills bacteria, germs, mites, and flu viruses, giving a healthy and safe space to live in. It is perfect for hospitals, homes, SPA centers, hotels.
Why choose this:
l Versatile: it is ideal for both domestic/commercial use, and public services such as hotels, SPA centers, and clinics.
l Safe & Durable: it comes with a high quality UV light, not easy to break; and its frame is made of durable ABS material;
l Intelligent automatic design: it turns off automatically after sufficient sterilization of 15'/30'/45';
l Ozone free or Ozone generated: Ozone free UV sterilization lamps emit high-level UVC radiation so it is effective for disinfection and sterilization, suggested to use in living room, bedroom, and so on; UV lamp producing Ozone (small amount) is better in removing bad smell, suggested to use in washroom, kitchen, etc.